Real-time monitoring of cellular responses to dynamic changes in their environment or to specific treatments has become central to cell biology. However, when coupled to live-cell imaging, such strategies are difficult to implement with precision and high time resolution, and the simultaneous alteration of multiple parameters is a major challenge. Recently, microfluidics has provided powerful solutions for such analyses, bringing an unprecedented level of control over the conditions and the medium in which cells under microscopic observation are grown. However, such technologies have remained under-exploited, largely as a result of the complexity associated with microfabrication procedures.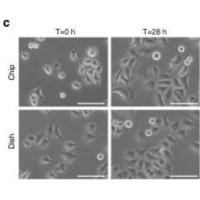 In this study, we have developed simple but powerful microfluidic devices dedicated to live-cell imaging. These microsystems take advantage of a robust elastomer that is readily available to researchers and that presents excellent bonding properties, in particular to microscopy-grade glass coverslips. Importantly, the chips are easy-to-build without sophisticated equipment, and they are compatible with the integration of complex, customized fluidic networks as well as with the multiplexing of independent assays on a single device. We show that the chips are re-usable, a significant advantage for the popularization of microfluidics in cell biology. Moreover, we demonstrate that they allow for the dynamic, accurate and simultaneous control of multiple parameters of the cellular environment.
While they do not possess all the features of the microdevices that are built using complex and costly procedures, the simplicity and versatility of the chips that we have developed make them an attractive alternative for a range of applications. The emergence of such devices, which can be fabricated and used by any laboratory, will provide the possibility for a larger number of research teams to take full advantage of these new methods for investigating cell biology.